Bob Hughes Shares Tips On How to Use Custom Flags and Banners for Maximum Impact
All businesses thrive on how well they market to their target audiences and be found by their potential customers.
Traditionally, for many decades, the marketing methods remained confined to print advertisements, TV/radio ads, direct mails, billboards, banner ads in high traffic areas and cold calling, etc.
With the advent of the internet, the outreach channels of small and big businesses, institutions, events increasingly titled towards modern internet-based digital platforms.
In 1994, the first online banner appeared on Wired magazine's site which read "Have you ever clicked your mouse right here? You will," and the click sent the user to one of AT&T campaigns.
Since then the internet advertisements have seen significant double-digit growth almost every year taking the focus away completely from traditional methods.
Many US companies spend more on online advertisements than offline.
But almost 25 years have passed since then and experts have a more pragmatic view of both advertising channels, their pros, and cons.
While the shape and form of online advertisements have seen a constant evolution, the offline methods have learned to adapt.
Contrary to the popular predictions, print ads, TV/radio ads, newspapers are all thriving serving and catering to a certain advertisement needs.
As Deanna Hughes, owner of Bob Hughes Display aptly says, "With the constant bombardment of banner ads on all websites we visit, there is banner blindness among internet users now.
As a buyer of online advertisements and as an owner of custom flags and banners business, we are seeing both sides of the coin and hence in a unique position to comment on the efficacy of both.
Both forms of banners complement each other nicely and people generally can put more information on the outdoor ads, such as railway station, beach, college, as people have more time to read them.
In both cases, you work with the canvas you have and play to the strengths of the media they are in"

Data from official sites like ComScore support the part on banner blindness.
A typical US internet user is served more than 1700 banner ads per month. Only 9% of Digital Ads are viewed more than 1 second according to data from Marketingweek.
In fact, Business Insider put this humorously – "It's More Likely You Will Survive A Plane Crash Or Win The Lottery Than Click A Banner Ad".
So online and offline banners just provide a canvas for you to work on.
Similar intelligence and judgment of design, planning, and execution go into both channels of advertisement.
Some smart companies are now putting up dynamic campaigns both online and offline to mix things up for consumers. One such recent example is Spotify.
While their content is largely online, they paired their data with traditional marketing, showcasing a series of humorous billboard ads that satirized customer listening habits.
This dynamic campaign worked big time for Spotify.
With strategic placements of feather flags and other custom banners, any small businesses, events can derive sizeable customer attention in a high traffic area.
Bob Hughes Display Offers a Variety of Banners and Custom Flags with this Intricate Understanding of Marketing.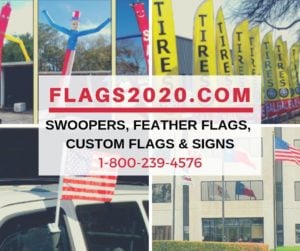 Being a family run business for over fifty years, President Bob Hughes takes immense pride to have built this business on discipline, devotion and the desire to help others which are instilled by the founder, a US Army veteran.
Initially he started with American flags, and this business has gradually expanded into custom flags, banners, and other display items.
This company understands that flags never sleep and custom flags and banners are the best advertising for a retail business.
With over two thousand unique display items, the collection caters to many businesses like Automotive, Grocery Stores, Restaurants, Apartments, and Furniture Stores uniquely.
Their custom flag printing services will create winning displays that uniquely represents your business needs.
Bob Hughes Display also manufactures and sells Military flags, Pennants, custom flags & signs, Swoopers, Feather Flags, Streamers, World Flags, State Flags, College Flags, NFL Flags and Flag Poles.
Bob Hughes Display
Contact:Deanna Hughes